F O N O P T I C O S


F o n ó p t i c o s is an urban interactive installation which consist in two artifacts, two cones, that are faced to each other, separeted by a valley standing each one on each hill respectively. Their shape is based on the World War I Radar, which worked through sound used in a mechanical way, to detect and calculate the distance of every eventuality around.

Every 'Fonóptico' will be a point and a relation focus of the person to the surround context. The person enter the head in the cone, transforming it in the sensitive point of the artifact, where the sound converges and where the sound spreads.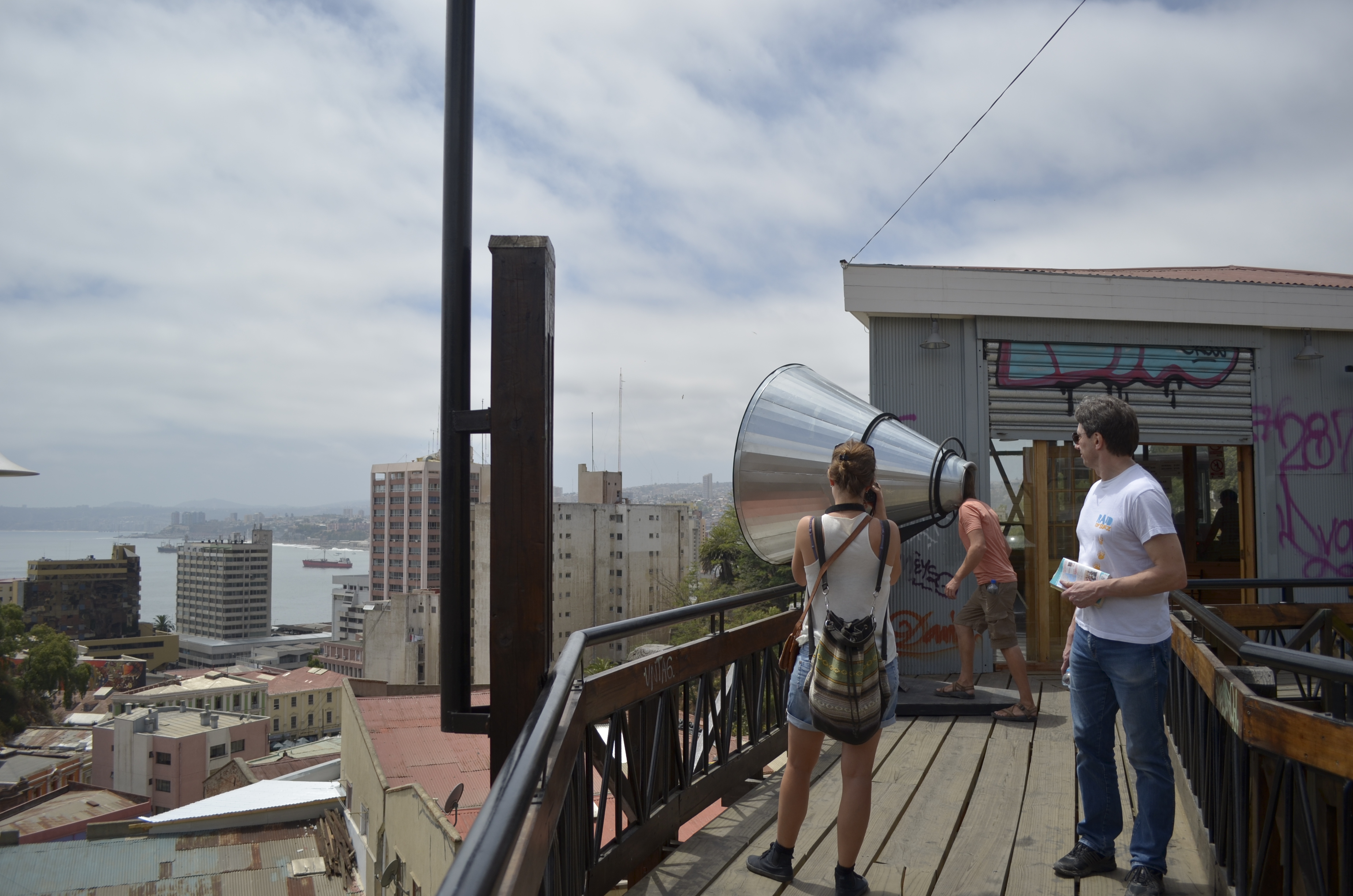 Cerro Alegre, Valparaíso, Festival of Arts

Like the scientific method; from the observation to the hypothesis, making conscious what you observed; from the hypothesis to the experimentation, is the relation and communication of the observer with the observed, which it takes to the interpretation and expression of two conscious points.
From the observer position you can be part of the context, be like an active actor, in a performative way, in a ludic way, or just experience it by hearing.



From Cerro Alegre, Valparaíso, Festival of Arts

Fonópticos like a sound framing of the environment; from the part, from the fragment you can appreciate the whole, as you can participate too.
Fonópticos like an urban analytical instrument; you can observe, feel, and make conscious the immediate environment through the sounds, from the sensitive part: the person.
Fonópticos like a magnifying glass of the present, through the amplification and observation of the sound, the situation of the person in the space, temporary and imaginary makes conscious.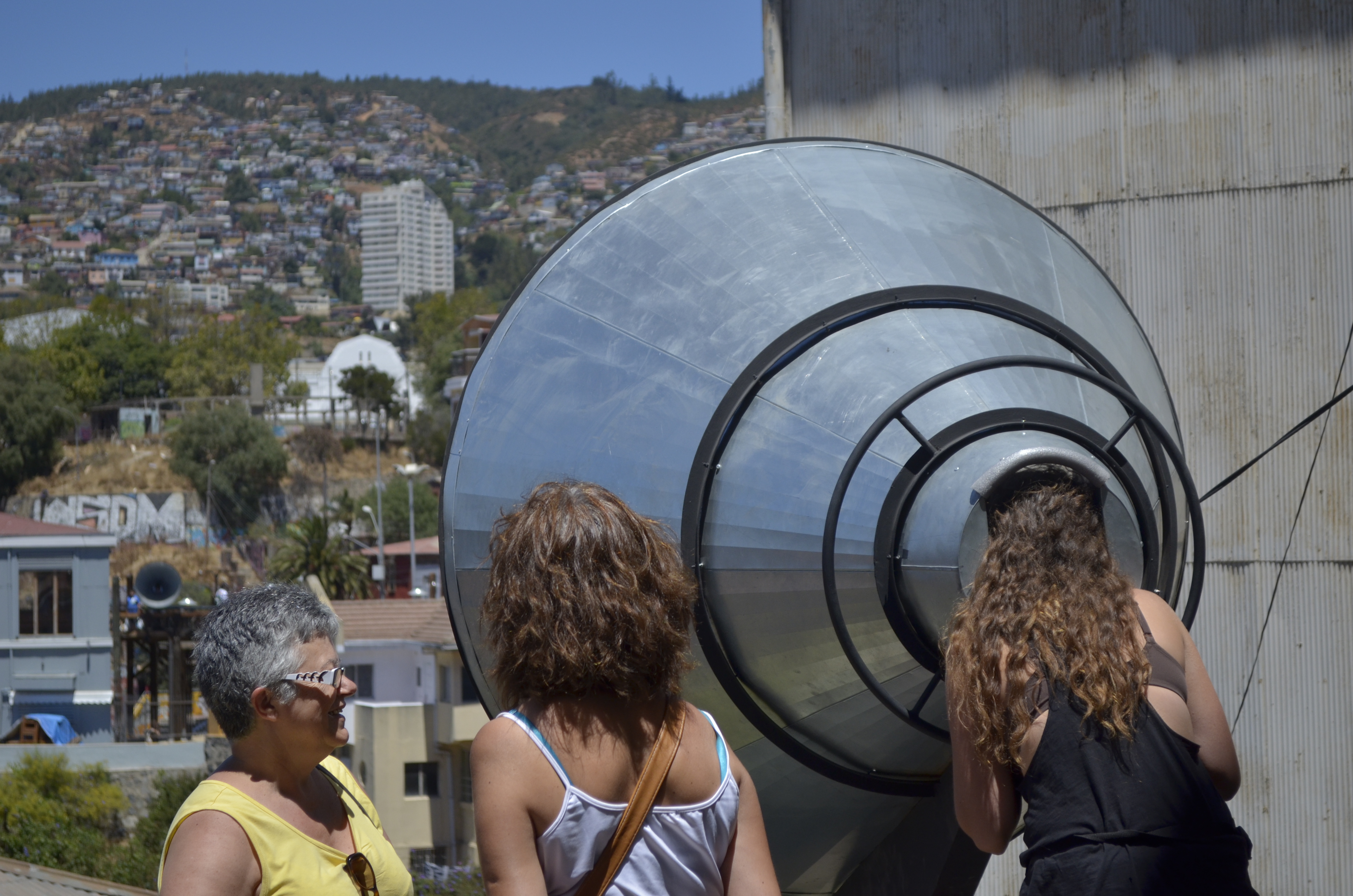 Cerro Concepción, Valparaíso, Festival of Arts

Each piece is situated on one side of the concepción hill, separated by a distance of 100 meters and linked through visual and accoustic manifestations. The person introduces his/her head inside one cone, catching the urban soundscape amplified as well as the voice of the other person at the opposite Fonóptico.

The idea borned as an act to create a cinematographic experience in the urban landscape. The main question was: how can one clearly connect two parts that are already visually linked? Hence, the first step was to provide the impression of a real-time movie: looking through a camera while hearing what was going around. Surprisingly, the idea had a particularity that was not seen before — which was the opportunity to communicate with each other in a very long distance, to be able to chat with one another from across.
This point made everything more interesting because you could actually watch the live movie, that was happening on the other side, but also be part of it. On one hand, it has this performative dimension while on the other it appears to be more contemplative and passive.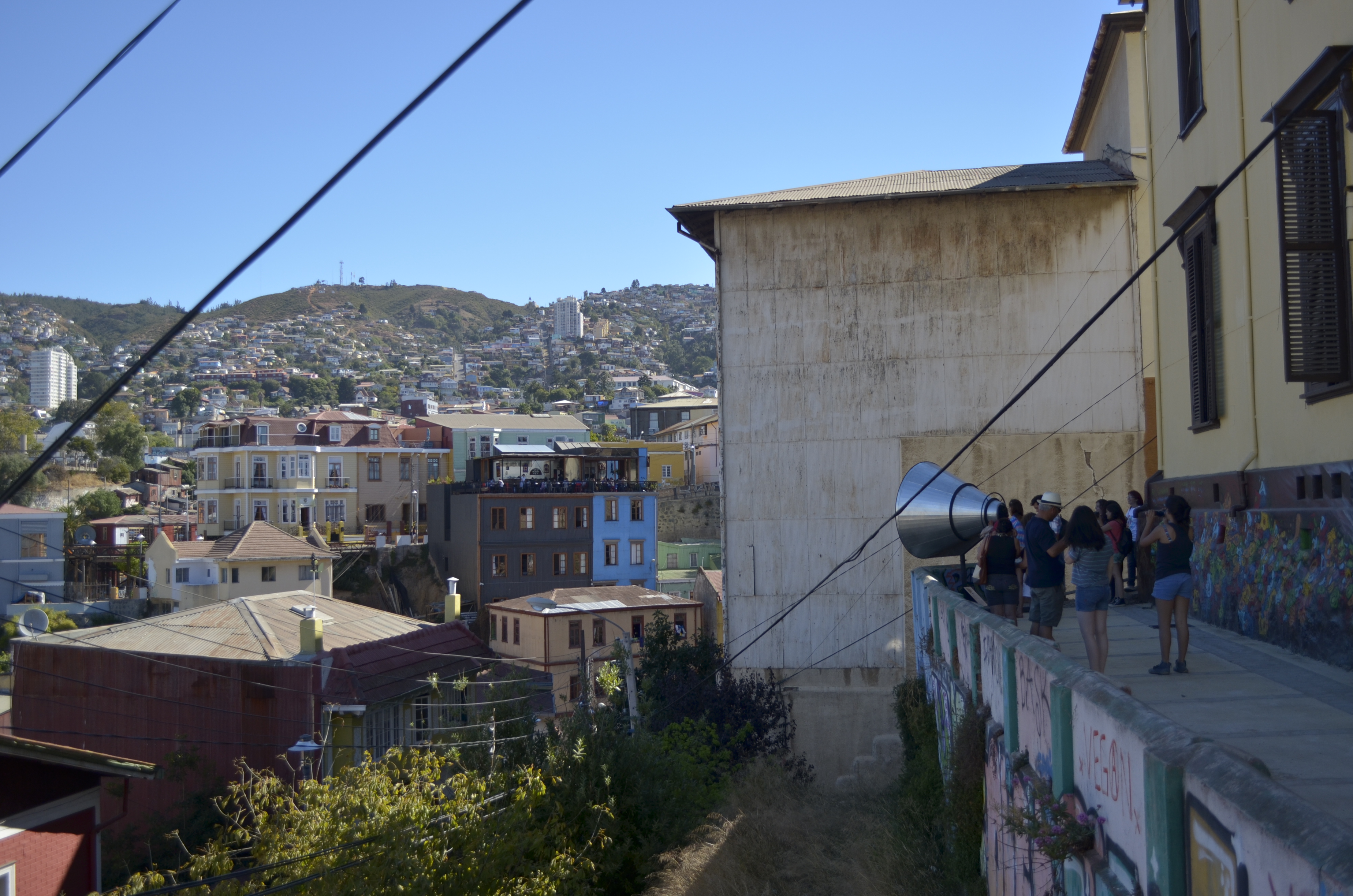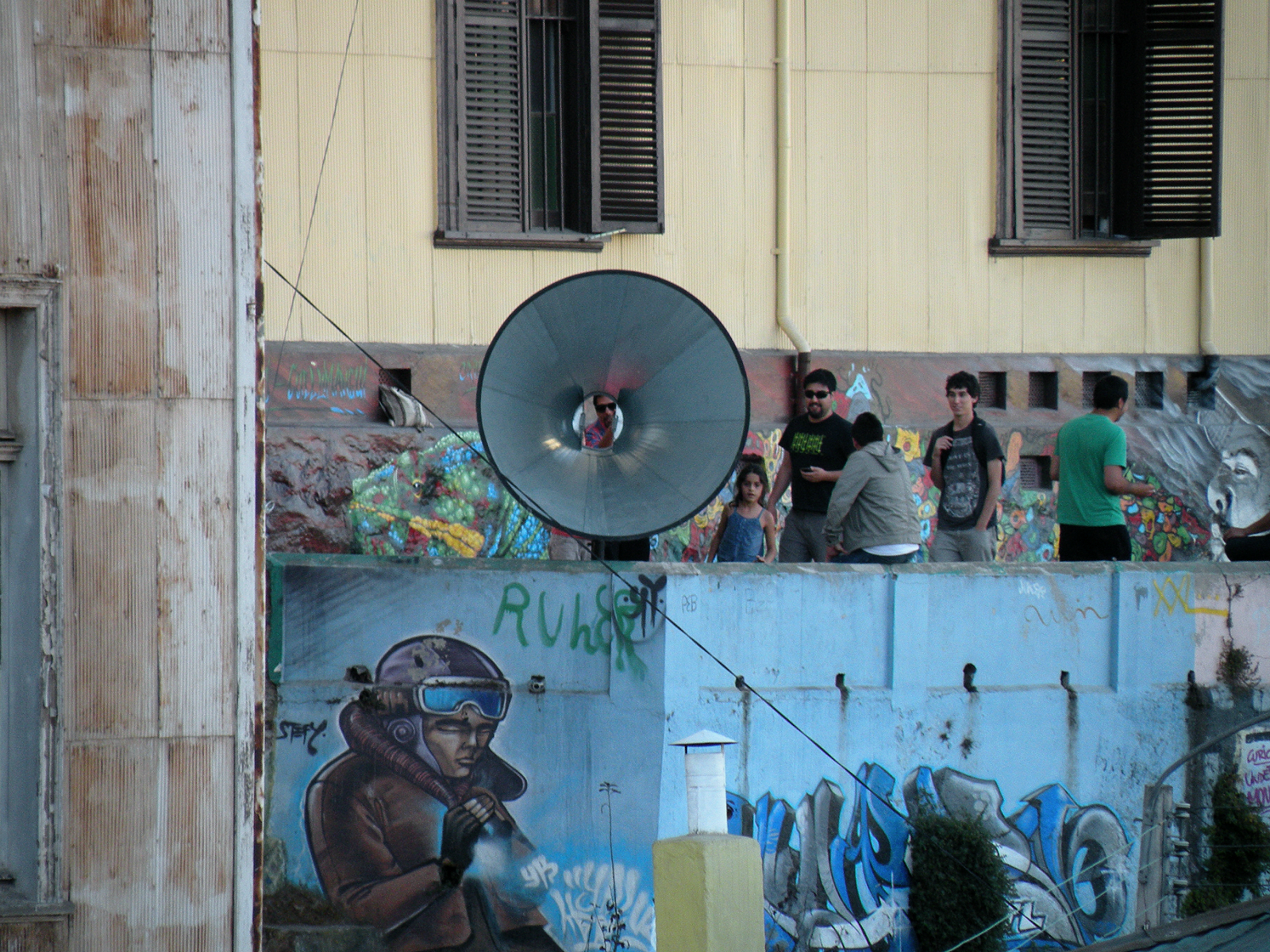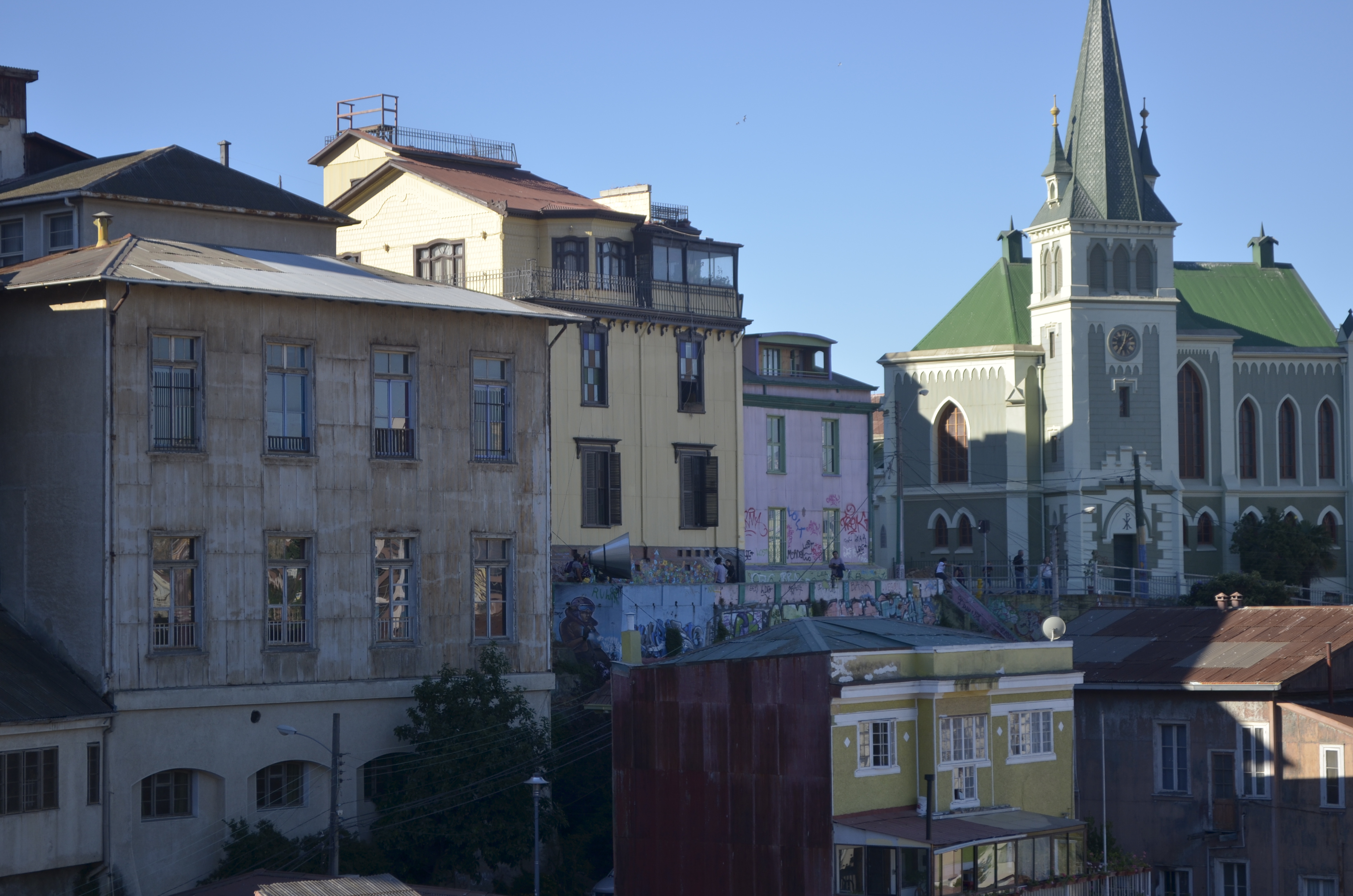 World War I, Radar based on listening the sound


More information about this project: Plataforma Urbana, Arch Daily