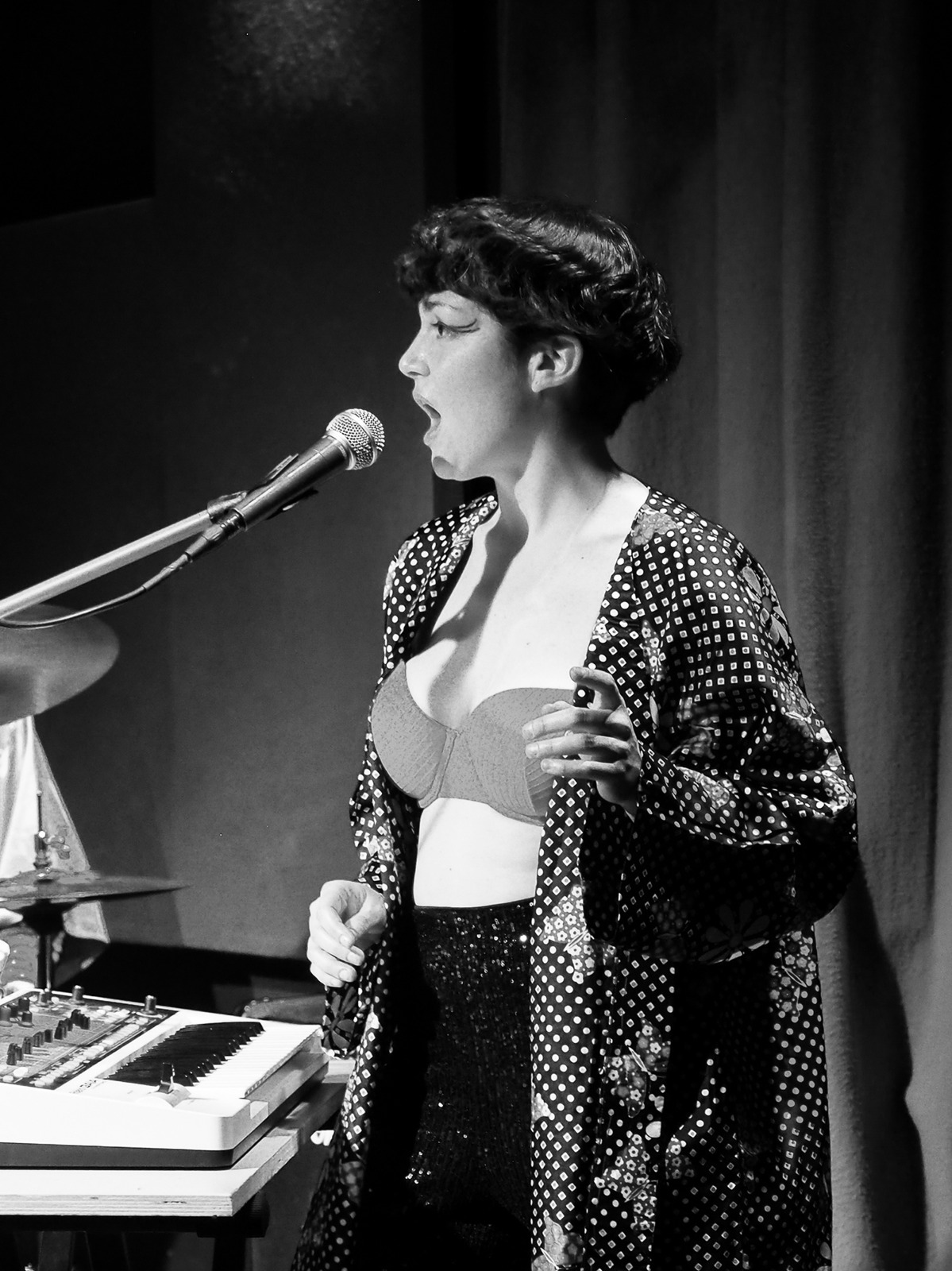 Performance at Marie Antoinette with musical project Badecima
AWARDS & GRANTS
2022
Musikfonds STIP-II Stipendium Neustart Kultur for the Project 'Outermembrane that blows at me'
2021
INITIAL Sonderstipendium Akademie der Künste for accoustic research of the project 'Silence'
FONDART Chile, Funding Grant for Artistic Residency abroad at the SSI, Budapest with the project 'Silence'
2017-2020
DAAD Scholarship for Master Studies abroad
2013
'Vitrola Baquedano' Finalist of the Hecho en Casa Festival, Santiago, CL
'Teleporter' Finalist of the Matilde Pérez 3.0 Competition, Santiago, CL
2012
Honourable Mention in ARQFILMFEST with 'ECDISIS' short film at the GAM, Santiago, CL
TRAINNING & WORKSHOPS
2014
'Nature Observatory of Amazonia Competition' participation with the work 'Sensory Frame'
2013
'Sound Experiences, Sound Art' Workshop by Ana María Estrada, 3 months, Santiago, CL
'Art & Urbanism' Workshop at Talleres LUMEN by Eduardo Serrano, 3 months, Santiago, CL
'Art Direction' Wokshop at Film School La Toma Productions by Francisca Corvera, Santiago, CL
Cecilia Paz Nercasseau Gibson
CL - BER



2017-2020

Master of Arts_ Bühnenbild und Szenischer Raum

TU Berlin, DE

2006-2012

Bacherlor_ Architecture and Urban Landscape

UDP Santiago, Chile

Long Term Collaborations

︎ BADECIMA

︎ LABORATORY OF INTELLIGENCE CULTURE

︎ ZOOZ

EXPERIENCE & WORKS 2023
09/23_Sound collective Performance "Transverse", Grüner Salon; Volksbühne
09/23 "Copula_Acoustic Dualities" Kultur.Konvent.Öhningen
Sound Performance & Installation w/Marie Akoury
05/23 Ausstellung "as part of.." Art Spring Berlin, Pop Up Store
05/23 Ausstellung BAAM Berlin
03/23 "Copula_Silent Soundscapes" Kleiner Wasserspeicher PB Sound Performance & Installation w/Marie Akoury

2022
'Ingredients to Nourish the Membrane of the Present'_Sonic Rituals Radio Streamming Refuge World Wide Radio
'Dreaming'_Laboratory of Intelligence Culture artistic Residency, IT
'Contact' Music & Objects Performance_Hacklab CTM Festival at Künstlerhaus Bethanien
2021
"Diana, Even" by Kat Válastur, stage design collaboration with Leon Eixenberger performed at HAU
'Time'_Laboratory of Intelligence Culture artistic Residency, Berlin
'Silence'_Spatial Sound Installation composition at the artistic residency at the Spatial Sound Institute, SSI, Budapest, HU.
'The Finesse'_set design assistance for a fiction documental producted by Goodhouse Films GmbH
2020
'Silence'_Sound Installation, Design Project, Performance & Book. Masterarbeit at the TU Berlin
'Conciousness' _Laboratory of Intelligence Culture artistic Residency, Berlin
Construccion of models as Set Design for Documental Film producted by Made in Germany GmbH
2019
'Selbstgebaute Musik Festival'Scenography Internship by Kollegen 2,3, S. Schneider & H. Toppius.
'Banana No!' Medial Installation at the former AEG plant Wedding in Collaboration with María Alejandra Alarcón & María Paula de Oro
2018
'Lonely Hearts' Operetta im Bus. Stage Design Internship by Opera Lab, Michael Höppner.
2017
'Hyperbole Station' Sound Sculpture Installation at the IFAC, Portugal in collaboration with Claudio Squella
2016
'Fonotropicos_Beyond the Boundaries' at the IFAC, Spain
ZOOZ Approach collaboration with Opay Goldberg & Matteo Magnabosco
2015
'Albedo' Site specific Sculpture Installation in collaboration with Sofía Nercasseau G. curated by Elisa Rusca & Opay Goldberg
'Sonar Fossil' Sound interactive Installation for the Nation of Gondwanna Festival in collaboration with Braian Cacciavilliani
2014
'Fonopticos' Urban Sound Installation for the Lollapalooza Festival, CchV, Lotus, Santiago, CL
'Fonopticos' Urban Sound Installation for the Festival of Arts in Valparaíso, CL
2013
'Telefonoskopio' Sound Installation at the Cultural Center of Recoleta curated by Ana María Estrada.
LANGUAGE
Spanish . English . Deutsch